Have you ever considered a life in the wild without actually being the wild? Bali is an island that has so much flora and fauna, great landscapes and a host of activities that you can indulge in if you intend to relax, grow, and learn at the same time. Unlike most tourist destinations, this Indonesian island offers a wide range of vacationing opportunities that range from lying on the white or black sand beaches, to bird watching, seeing as they have close to 300 bird species, mountaineering and even interacting with the locals in the rice plantations and villages.
Luxury Villas in Bali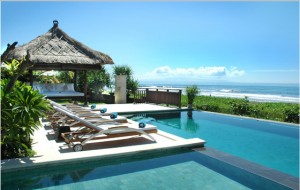 Like many other popular tourist destinations, Bali offers a wide range of accommodation options with the best being the Luxury Villas in Bali. These are fully furnished and serviced homes that provide you with all the comfort you need without taking away the fact that you are abroad on holiday. The thing about Bali holidays is that they are specifically unique in their mix of activities and experiences. The only constant factor for a frequent visitor could be their choice of accommodation for each visit. Some people opt to live with the locals in their simple homes in order to experience the island as the natives do, but this is not always easy after getting used to your life and its conveniences. The Luxury Villas are an opportunity for you to enjoy a luxury home away from home, with professional servants if you wish to have them.
The Luxury Villas in Bali come in different price ranges and sizes as well as other details like the number of servants, guests and location. Most tourists go for beachfront locations but the best choice for you will actually depend on your tastes and preferences. Some of the most beautiful views in this island have nothing to do with the beaches although a huge number of people may disagree. If you are into beaches, the island offers two types, with the northern and western ones having black sands while those in the south boast of white sands. All you have to do is pick a location that interests you and you will be on your way to having the best of Bali in your luxury villa.
Bali holidays offer a unique type of retreat because they are filled with fun learning experiences, and staying at a luxury villa plays a major great role in the experience. Some of these luxury villas allow you to take care of yourself since you can decide on the range of services that you need help with and those that you can handle individually. As such, you can go to the markets, learn how to prepare the local dishes, you can even choose to wine and dine in the local restaurants, or entertain a few friends in the house. The freedoms that the luxury villas extend to you as a guest are simply unbelievable and you are likely to get more out of your Bali holidays here.
Why Bali is the Island of kings

,