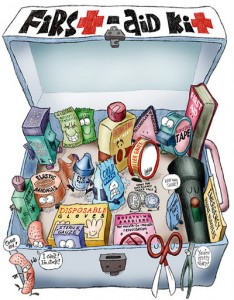 Traveling, without any doubt whatsoever, is fun; but accidents happen and it comes at the most inopportune times. Bringing basic first aid supplies wholesale may be beneficial for you and your family while waiting for skilled emergency health practitioners to come.
Common accidents during travels
According to the World Health Organization, the leading cause of preventable deaths while traveling is injuries. It is even more dangerous than communicable, infectious diseases.
While road accidents like drunk driving or motorcycle mishaps are quite common, seemingly inconsequential injuries can lead to grave health consequences, and yes, death too.. Did you know that minor scrapes or cuts that have not been attended to because of empty first aid bags can lead to a major infection in just a few hours?
Reiterating the importance of a first aid kit
The average American family does not really think of completing their first aid kit at home, thinking that the drugstore is only a few kilometers away or that calling 911 is the only solution to most health emergencies.
However, it's not. This is why health experts are advising everyone to stock up and make sure that their first aid med supplies are as complete as those in their workplace first aid kits are.
What should be in this kit?
Sterile gauze pads or band aids
Antibiotic ointment
Hydrocortisone cream – for itching, allergies and bites
Disposable sterile gloves
Cold compress
Pain relievers (always check for expiration date and change when necessary)
Antiseptic wipes or a bottle of alcohol
Adhesive tapes
Thermometer (the oral type is preferable)
Other medications like anti-diarrheal or whatever is prescribed by your doctor
You really don't have to go crazy and buy everything that you see in those stores that offer first aid supplies wholesale, especially if you're only getting some for your home or for travel.
But, you do have to make sure that you get a set for your home and another for travel. While it is cheaper to have a single kit, you can never be too careful. We can't say this often enough: an ounce of prevention is always better than a pound of cure. Leave one for your family or to whoever will be left at home and bring one with you for traveling.
If you do want to save money, the best place to buy would be stores offering first aid supplies wholesale.
First aid kit is very beneficial especially when traveling; don't wait to experience an injury before getting one. You can find affordable first aid supplies here at http://www.firstaiddistributions.com.au/.
First Aid Kit: A Must Have When Traveling

,